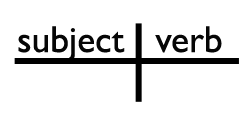 Look at grammar for a Bible study?
Can you think of anything that would elicit a louder groan?
Grammar plays a key role in seeing the transformation of Tamar in Genesis 38. Don't believe me? I'll make it easy for you and colorize the subjects and verbs in the eight verses (in both sentences and phrases) that introduce us to this young bride.
Tamar is introduced grammatically (and metaphorically?) as an object.
In the course of time, Judah arranged for his firstborn son, Er, to marry a young woman named Tamar. 7 But Er was a wicked man in the Lord's sight, so the Lord took his life. 8 Then Judah said to Er's brother Onan, "Go and marry Tamar, as our law requires of the brother of a man who has died. You must produce an heir for your brother."
9 But Onan was not willing to have a child who would not be his own heir. So whenever he had intercourse with his brother's wife, he spilled the semen on the ground. This prevented her from having a child who would belong to his brother. 10 But the Lord considered it evil for Onan to deny a child to his dead brother. So the Lord took Onan's life, too.
11 Then Judah said to Tamar, his daughter-in-law, "Go back to your parents' home and remain a widow until my son Shelah is old enough to marry you." (But Judah didn't really intend to do this because he was afraid Shelah would also die, like his two brothers.) So Tamar went back to live in her father's home.
\12 Some years later Judah's wife died. After the time of mourning was over, Judah and his friend Hirah the Adullamite went up to Timnah to supervise the shearing of his sheep. 13 Someone told Tamar, "Look, your father-in-law is going up to Timnah to shear his sheep."
My feminist hackles are rising as I read, because Tamar can only respond as others direct her life. So I remind myself of the history and the patriarchal society in which this story is set, take a deep breath, and read the next five verses.
14 Tamar was aware that Shelah had grown up, but no arrangements had been made for her to come and marry him. So she changed out of her widow's clothing and covered herself with a veil to disguise herself. Then she sat beside the road at the entrance to the village of Enaim, which is on the road to Timnah. 15 Judah noticed her and thought she was a prostitute, since she had covered her face. 16 So he stopped and propositioned her. "Let me have sex with you," he said, not realizing that she was his own daughter-in-law.
"How much will you pay to have sex with me?" Tamar asked.
17 "I'll send you a young goat from my flock," Judah promised.
"But what will you give me to guarantee that you will send the goat?" she asked.
18 "What kind of guarantee do you want?" he replied.
She answered, "Leave me your identification seal and its cord and the walking stick you are carrying." So Judah gave them to her. Then he had intercourse with her, and she became pregnant. 
Who's in control of the  conversation and situation? I don't recognize this person, and I cheer for Tamar, a proactive warrior, as she takes action to change her life.
Can this really be the same woman? What brought about this metamorphosis?
Read the rest of the chapter for more examples of her transformation from acted-on to actor.
Read Matthew 1 to find her  listed as only one of five women in the lineage of Jesus.