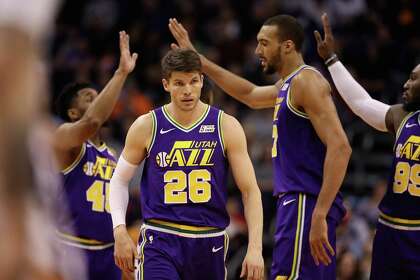 Why did I read this article on white privilege? I don't even recognize I have it, because for me it's just "normal." How can normal be a privilege?
I read this article because Kyle Korver is the son of my pastor, and I have great respect for them both and value their thinking. Another reason: My brother B.J. and I can have some deep political discussions, and he sent this article to me to instigate another conversation.
Thanks, bro, I've finally spent the time to listen to the entire video discussion, and I've accepted the challenge to get used to entering into uncomfortable issues that need to be addressed.
Some takeaways from the video conversation:
Kyle Korver:  "Before I knew the full story, and before I'd even had the chance to talk to Thabo….. I sort of blamed Thabo…."I realized the police wouldn't have arrested me. Not unless I was doing something wrong," he said, summing up his feeling at that realization in one word: "Cringe." 

Ekbe Udoh: "It's sort of like we're in a zoo, and we're paid money to perform. So shut up and perform."
Kyle Korver: "As a white man I can walk in and out of this problem any time I want. If I want to talk today, I can. Tomorrow, I don't have to if I don't want to. That is white privilege…"
Georges Niang: There are "so many different layers and we only look at our own. Being a white American is easier, there are some things you don't have to battle…don't have to deal with on a day-to-day basis…we need to educate and hold each other accountable
Kyle: "…divorce, money, cancer hits every color, right? But there's an 'and' that people of color do have to deal with."
Thabo Sefolosha: "When you have some kind of privilege, you don't see it as privilege, you see it as normal. Why would you take it away from me? Why should I hurt myself helping?"
Georges Niang: "Put your heart into it. Fight the fight all the time."
Kyle Korver: "The first time I had this conversation I found out that I really had no idea what I was talking about. I need to learn. Be comfortable with feeling uncomfortable. See, learn, then do something about it. Activate the good."
Ekbe Udoh: "We won't see the change, but we want to spark it, start a new norm, keep it going, to blaze away."
Kyle Korver: "Start with self, with family, Is everything in your family white? Don't wait for laws and policies…take care of our own hearts and character."
Thabo Sefolosha: "I see a lot of policies that keep the poor poor, and the top at the top…education and conversation is key."
Kyle Korver: "How do we keep engaging more and more people into this conversation?"
Kyle said, "We all have to deal with difficult stuff, but there's an 'and' that people of color do have to deal with. This hit me! I need to recognize there is an 'and' and become uncomfortable with it, so that I don't participate in it, so that I teach myself–then my children–to leave this whole idea about privilege behind.
So, let's have an uncomfortable confersation. Read the article and watch the video. Let's talk.